Preperse pigment preparations are combined with several groups of pre-dispersed pigments which are recommended for correlating plastics. Now we have separated Preperse series for polypropylene, polyethylene, polyvinyl chloride, poly amide, and widely suitable for general applications such as injection molding, extrusion, fiber and film.
Using pigment preparations (pre-dispersed pigments) for particular plastic applications, such as filament, BCF yarn, thin films, always benefit producer an outstanding advantage of low dust. Unlike powder pigments, pigment preparations are in micro granule or pellet type which shows better fluidity when mixed with other materials.
They also show better dispersibility than powder pigments in plastic application. Coloring cost is another fact which users always concern about when using colorants in their products. Thanks to the advanced pre-dispersing technique, Preperse pigment preparations show more growth on their positive or major color tone. User can easily find better chroma when adding them into products.
The Preperse pigment preparations have medium to maximum level of light resistance, heat stability and migration fastness. They meet all possible coloristic requirements. More products are in R&D status and will be disclosed soon.
Preperse pigment preparations are effectively dispersed pigment concentration, which are in high pigment content. Most Preperse pigments have an effective component from 70% to 90%.
They are all in granular type or micro pellets, which are dust-free, free-flowing and suitable for auto-feeding system.
Each series of Preperse pigments can be used within low shear action. For example, when producing masterbatch for injection molding, single-screw machine is more sufficient and flexible choice for manufacturers. Preperse pigments will easily meet the best dispersion performance in such condition, where only feeble shear force available but high dispersibility is expected.
Twin-screw extruders are favorable when using Preperse PE-S, PP-S, PA for high standard pigment dispersion or where the masterbatch are used to coloring fibers, films, etc.
The Preperse pigment preparations are suitable for applications:
•  fiber
•  film
•  pipe
•  blow molding
•  injection molding
•  extrusion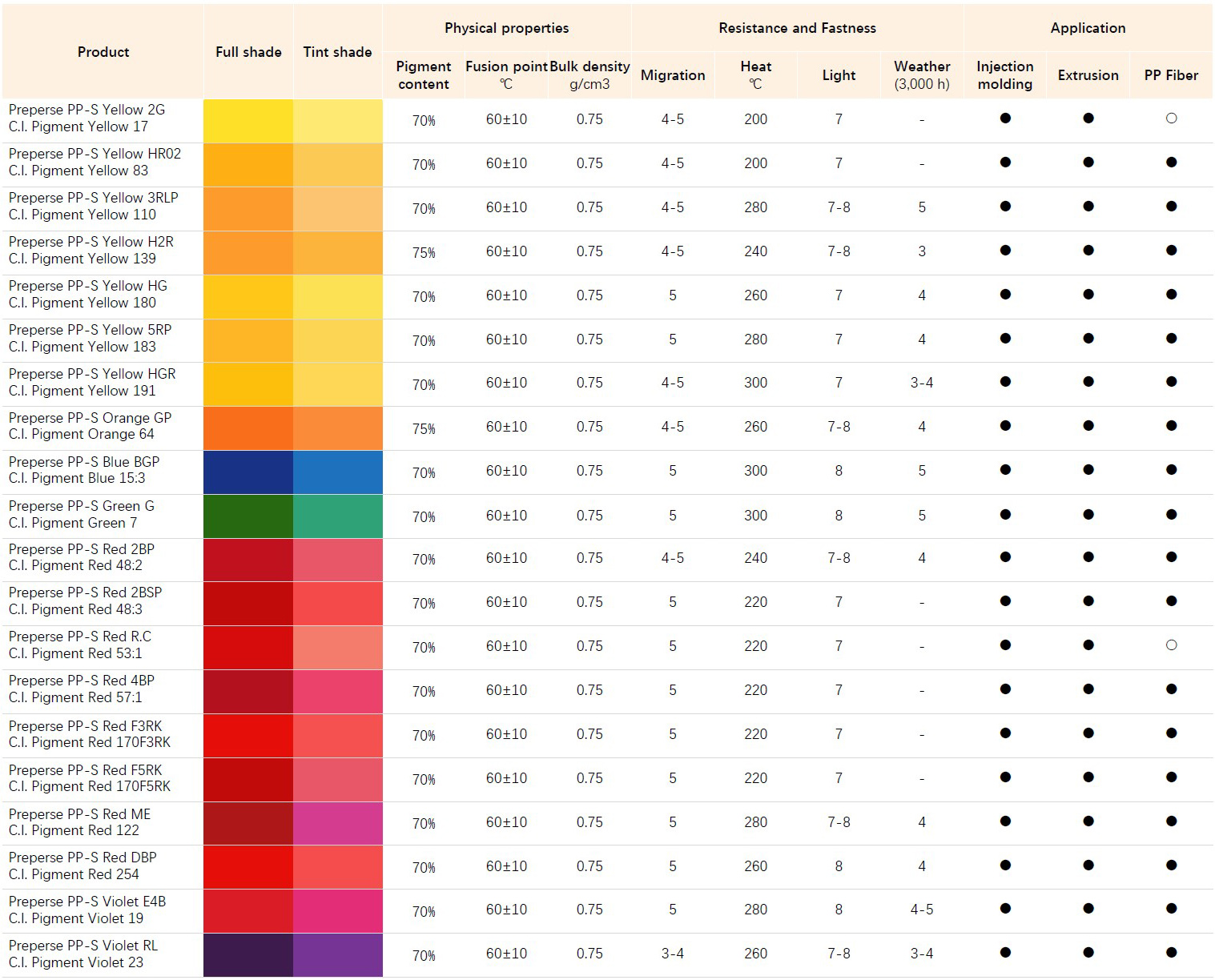 ---
Post time: Aug-12-2022